Friday, March 11th, 2016, Republican presidential candidate Donald Trump cancelled a campaign rally scheduled that evening at the University of Illinois in Chicago. The rally was cancelled by Trump late in the day as Trump supporters/attendees arrived at the auditorium. The rally was cancelled due to threats of violence by Leftist protesters. The Leftist protesters turned violent. News footage includes images of Leftist protesters of all races, ages, and gender. News later that evening reported protesters had blocked traffic and assaulted police and Trump supports outside the auditorium.
I was surprised Trump cancelled the rally amid Leftist threats. One of his attributes is that he does not back down from a fight. But today, two days later, I see he has regained his footing and standing firm on scheduled rallies in the face of threats.
As an ardent Ted Cruz supporter I was very keen to the significance of the violence of the Leftist protesters Friday evening.  That evening I said to my son (he's a Trump supporter) as we watched the news coverage, "Uh oh.  I have to see how Cruz reacts to this situation.  Because, if Cruz doesn't fall on the correct side of this issue, I'm going to have a lot of trouble voting for him."
What is the "correct" side? Donald Trump is NOT to blame for the violence of the protesters. Clearly the protesters themselves are responsible for their own actions.  As is typical of the Leftist media, the Left is blaming the victims—Trump, his supporters, and police officers.  If there is any blame to go around "at the top" for inciting anger, I lay that blame squarely at the feet of President Obama who has been pumping racial division and insulting America for 7 years!
So, I waited anxiously this weekend to hear Ted Cruz make a statement in reaction to the lawlessness of Friday night.  And, just as I feared, Cruz buckled and sided with the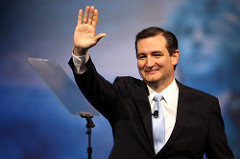 Leftist media blaming Trump's "violent rhetoric;" NOT the protesters! I shook my head in disgust.
I also noticed Ted Cruz had made an unnerving statement this week, indelicately claiming a significant portion of Trump's supporters are "low-information voters."  I checked his quote and read the context. Yup. He said it. I shook my head, hoping it was a faux pas that won't be repeated.
This is what really concerns me about Ted Cruz in light of the race narrowing to he and Trump, Lindsey Graham conceding Cruz must be the nominee, Cruz's faux pas this week, and now Cruz's unprincipled choice blaming Trump for the violence of Friday's protesters. The question now percolating in my mind:  Is Ted Cruz compromised? Is Cruz now making deals with the "establishment" Republicans in a coordinated effort to defeat Trump?
I'm giving Ted Cruz the benefit of doubt. For now. Though I'm not surprised to learn this weekend many Cruz supporters are switching to Trump for Cruz having misplaced his principles for political gain.
Yuuuge, mistake Senator Ted Cruz.  Yuuuge.  You may not recover from it.  We await your apology.








by